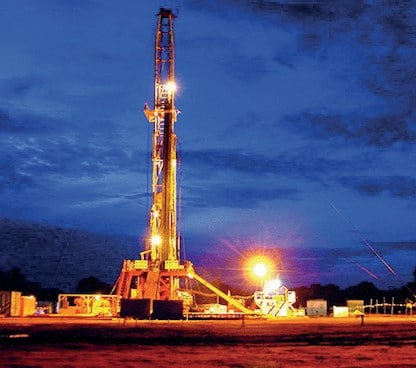 Sigma offers a wide range of pulling units with different pulling capacities and effective jacking capacities.
Our units are single Drum or double Drum truck mounted self-propelled workover rig which consists of self-propelled chassis, transfer case, angle gear box, drawworks and brake system,mast, deadline anchor a weight indicator, hydraulic winch, hook block, pneumatic system, hydraulic system and electrical system.
The whole unit structure is compact and adopts hydraulic + mechanical driving mode with high comprehensive efficacy.
The units adopt II-class or self-made chassis with various to meet the users different requirements.
The mast is face open single or double telescoped sections, hydraulically or mechanically raised and telescoped. The raising and telescoping controls are located near the operator's console for easy access and operation.
Our units are powered by cat engine, the power is transmitted to the front drive axle, the rear drive axle and the drawworks system by transfer case separately. The driver can control shift in the cab when the carrier is running and the driller can operate the remote control valve on the driller's console when workover.
All drawworks meet or exceed  API recommendation for oil and gas design criteria and are engineered to meet a minimum
4.1 safety factor.
Drawworks Drums are dynamically balanced to ensure smooth running. Wide barrel design reduces line interference when operating double fast line.
Heavy-duty 4-axle or 5-axle oilfield carriers with two front steering axles, two rear-driving axles. All frame members are open and welded for superior strength and durability.
The oilfield carrier is designed for maximum maneuverability, road clearance and turning radius.
The location of the carrier axles is specially engineered to correctly distribute weight in proportion to front and rear axles.
Applications
New GL completion
New Water injector completion
ESP Conversions
Water Injection Conversions
PCP Conversion
ESP Pump Replacements
PCP Replacements
Tubing Replacements / Re-Completion
Water Shut Off
Beam Pump Installations / Repairs
Lateral Cleaning
Perforation
Water injector tubing replacement
Abandonment
Casing Repair